Paleo Crumbed Chicken
My little man is getting to a stage where he is being super fussy with food so
I've been testing out some different recipes lately and this one has been a real winner with the kids. With gluten being an issue in this house I love this alternate version of an old favourite.
You will need:
500gm skinless chicken (either breast or thigh) you can either cut into strips or leave whole

1 cup tapioca flour
2 eggs
1/2 cup almond meal
1/4 cup coconut flour
Pinch of salt and pepper
2 tablespoons virgin coconut oil
Side Note:
You will need your oven at the end of this recipe and as I usually serve with baked veggies I prepare the veggies first and pop them in the oven at 180 then while they are cooking I prepare the chicken. However please note if you are not serving with baked veggies turn on the oven to 180* to preheat.
Method:
In a bowl add your tapioca flour
In a second bowl crack the 2 eggs and whisk lightly with a fork until yolk and white are combined
In a third bowl add your almond flour, and coconut flour and salt and pepper and stir together
Now that you have your 3 coating bowls ready, coat your chicken pieces in each bowl starting with the tapioca flour, then the egg, then the final almond/coconut flour mix.
Once all your chicken pieces are coated heat the coconut oil in a fry pan and fry all the pieces until coating is browned.
To ensure the chicken is cooked through without burning the coating transfer all chicken pieces into a baking dish lined with baking paper and cook for an additional 15min. Note: I usually take the chicken out and check it is thoroughly cooked by slicing into one of the thickest pieces and checking. If it needs more time I just pop them back in the oven for a little longer.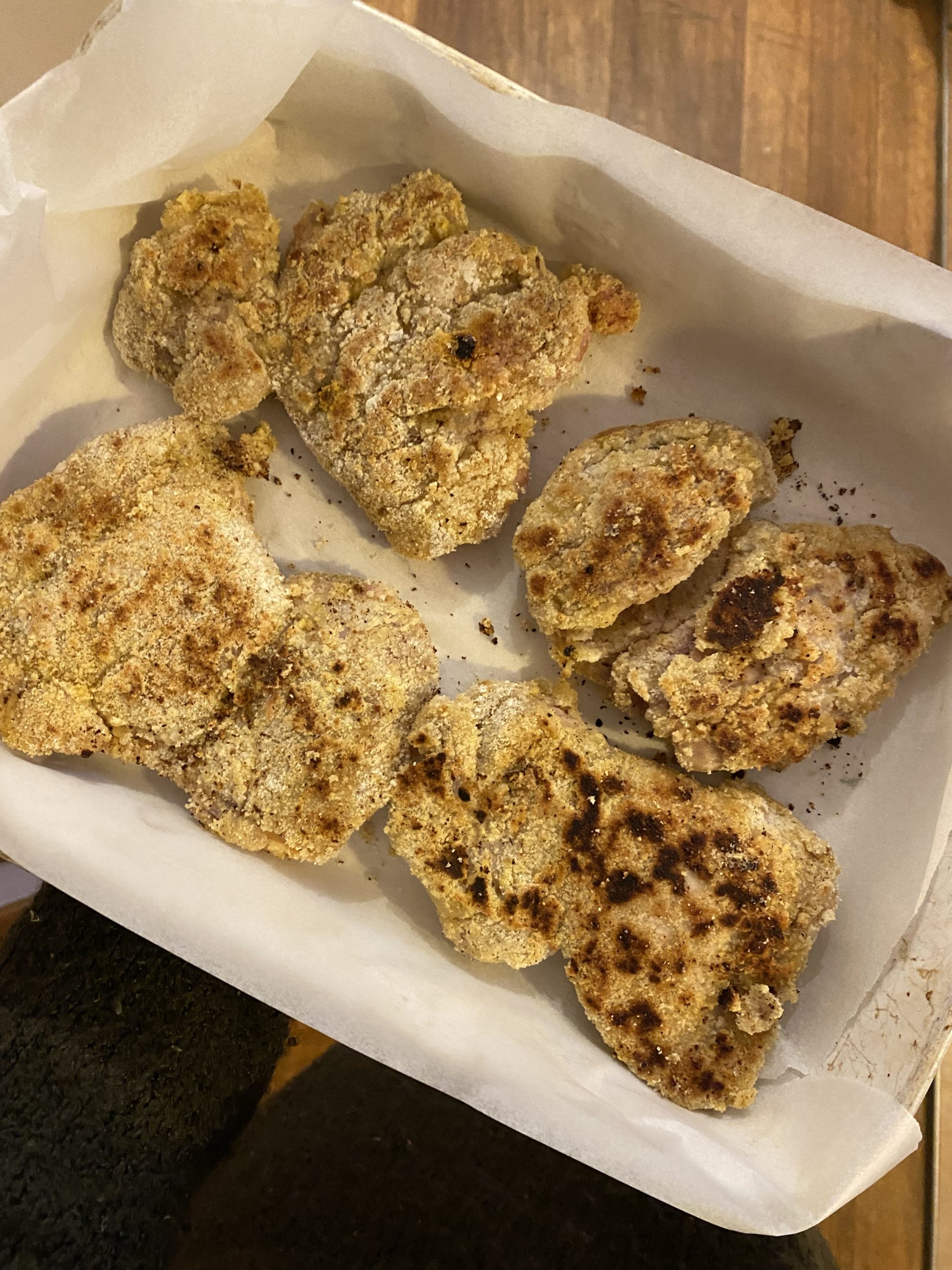 You can use this simple recipe for so many different dishes – parmigiana, crumbed chicken dippers, schnitzel to name a few. I hope it's a winner in your home too!
Don't forget to tag me on Instagram (@amyinneshealth) when you make my Paleo Crumbed Chicken, would love to see how you and your family love it too!
Enjoy x